3 Best Dimplex Fireplaces for 2022-2023
Choosing Dimplex for your fireplace is easy. Choosing the best Dimplex electric fireplace can be a bit more difficult and requires careful planning. Implementing your dream home idea into reality is what many homeowners strive to achieve. Not only can this increase the value of your home, extrinsically speaking, but also the intrinsic value of enjoyingly resting your head in the comfort of your home. A home of your own customization. 
With that being said, a question is often asked, "Does adding a fireplace add value to your home?".
Well to answer this, the National Association of Home Buyers found in a 2018 survey that as new home buyers enter the market, homes with desirables such as fireplaces were preferred.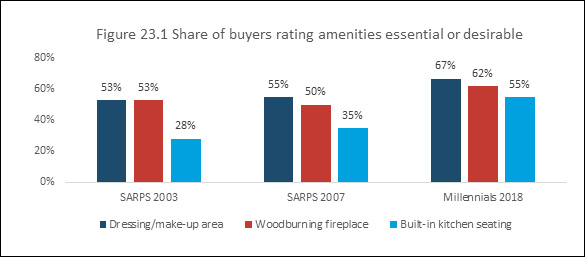 source: Millenial Home Buying Preferences, 2019. View Source
From what this data can suggest. As the younger generations transition into prospective home owners, the desire for a fireplace in their home will likely be a great selling factor. That being said, geographically speaking the demand for fireplaces vary. 
| | |
| --- | --- |
| REGION | Percentage of Homes With at Least One Fireplace |
| MIDDLE ATLANTIC | 57% |
| WEST NORTH CENTRAL | 56% |
| NEW ENGLAND | 48% |
| EAST NORTH CENTRAL | 44% |
| EAST SOUTH CENTRAL | 42% |
| WEST SOUTH CENTRAL | 42% |
| SOUTH ATLANTIC | 39% |
| MOUNTAIN | 38% |
| PACIFIC | 36% |